13 Mar

Aloe Greeson Directs The Magnificent Melodears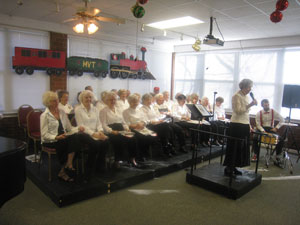 As Cole Porter, one of Aloe Greeson's favorite composers, wrote: "You're the Top" (watch http://www.youtube.com/watch?v=njzqv5gWt6k) – and that surely applies to Mrs. Greeson, who moved to Mount Vernon Towers with her husband Ray in 2000, after they inherited a spacious two-bedroom, two-bath home in the Towers from his mother.
Tommy Miller, Executive Director of Mount Vernon Towers, explains: "Aloe is one of the most active residents here.
"She has chaired many committees, served on the Board for eight years, including one year as Chairman, and has directed the Melodears, our Mount Vernon Towers singers, for at least the last eight years.  Aloe also has chaired our Decorating Committee and has personally chosen the vast majority of artwork that graces our walls.  I cannot say enough good things about her!"
Directing the Melodears is a major commitment; the choral group, consisting of twenty ladies and ten gentlemen, practices an hour every Monday afternoon. They prepare and perform four new shows per year, each one themed to the season. Mrs. Greeson likes to add some visual flair to each show and recruits other residents to participate as well. Right now, the Melodears are preparing a 'Spring Fling' program that will take place the week before Easter.
Mrs. Greeson taught music in the Atlanta Public School System for more than 30 years, and has directed many choral groups. Mrs. Greeson, whose favorite classical composer is Pyotr Tchaikovsky, loves many different kinds of music and the joy that music adds to peoples' lives.
"We have so much fun with the Melodears," she says. "It's a great group, and because we spend a lot of time together, we've all become good friends. I enjoy selecting great songs from 'our' era, including famous numbers from favorite musicals like The Music Man, My Fair Lady, Annie Get Your Gun and Oklahoma – songs everybody knows well and loves to sing."
Music has always been a big part of her life. Growing up in Chatsworth, her father played the fiddle at many square dances – though unfortunately, Mrs. Greeson never heard him play due to an accident – and her parents and grandmother sang a lot, in church and at home.
Thank you, Mrs. Greeson, for adding so much joy to the lives of the residents of Mount Vernon Towers. You're the Top!